Hi, good to see you here.
I'm really excited for you because... no one comes here by coincidence. Not here.
Since you're reading this I'm assuming you've been playing with the Law Of Attraction for a while now, getting some results... or maybe even manifesting everything you wanted... but something's still missing.
And it can be so frustrating.
You might even be thinking:
"Surely I cannot have everything..."
Well, let me prove you wrong.
The good news is: you can start changing things NOW - no matter where you're at in life, your current self-image or the less than perfect results of your manifestations so far... It's the desire to learn and grow that will make the difference.
That said, it's the crucial first step... BUT it's not enough.
There are certain paths to take to get certain results.
You might have seen other people thriving (who you might even consider less committed, intelligent or whatever label you want to use) - whereas you seem to be doing everything right... yet you're still not happy.
Well, it's not exactly your fault - it's the way you've been programmed.
It's the system of self-beliefs - the neuro-patterns, reinforced over decades by your parents, society and then yourself. They dictate your thoughts, actions and results.
And so you have to change this complex structure of self-beliefs first, before you'll be able to master the secrets of attraction.
As said, it's not your fault to be programmed this way... But now you know it, it's your responsibility to do something about it.
Because ignorance is NOT bliss when it comes to the Law.
The Law still applies, whether you acknowledge it or not. You probably know that by now.
And so I am here not only to help you understand how the Law works, but also to help you rewire your brain and get the results you've always wanted.
My 15+ years of experience - and this course - is your shortcut.
You'll get access to video tutorials, EFT audios, guided and binaural meditations... and other tools and techniques needed to crack the code and unlock the ultimate power of manifestation.
If this sounds inspiring and empowering... then welcome to Wealth Beyond Reason 2.0.
It's really good to see you here.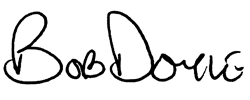 Bob Doyle

Law of Attraction teacher and featured expert teacher in "The Secret" movie.